Sonoma County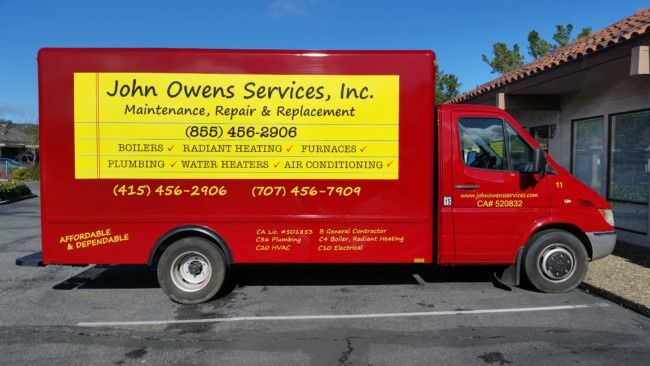 We, at John Owens Services, are experts in a variety of plumbing and HVAC services. When it comes to plumbing, heating, and air conditioning installation & repair near Sonoma County, we're your go-to solution. We employ tried-and-true methods and sophisticated technology to detect hidden issues that might cause structural damage if not handled promptly.
Best HVAC Services
Your HVAC system works diligently to keep your domestic atmosphere comfortable no matter how hot or cold it gets outside. Your HVAC system might often face difficulties even with adequate care and maintenance. Give us a call if your HVAC system isn't working properly. We'll figure out what's causing the problem and treat it before it becomes a serious issue. Did you know that an HVAC system may last up to 15 years with proper care and maintenance? If your HVAC system is beyond repair, it is best to replace it rather than fixing it. We provide cooling, heating, boiler, and furnace replacement in Sonoma County.
Allow us to check your unit before you make a choice. We advocate replacing your HVAC system only if it's beyond repair and maintenance. Our technicians have the knowledge and skills to handle a variety of HVAC issues, including:
Boiler repair and installation
HVAC repair, replacement, and installation
Leak detection
Water heater repair and replacement
AC repair, replacement, and installation
Ductless mini-split installation
Furnace repair and replacement and more
If you plan to get any of the above services, give us a call, and our technician will be right there with you to provide top-notch services.
Why Choose Us?
We are a customer-focused organization. When creating a solution, we consider how it may make the customer's life easier. We offer cost-effective solutions without taking shortcuts. In short, we never compromise on the quality of our service. Our pricing policy is open and clear. There are no hidden fees.
Why Should You Hire a Professional?
Whether you need help with your furnace replacement or water heater repair in Sonoma County, only a professional technician tends to understand how these systems operate. Rather than jumping to conclusions, they look for the source of the problem and resolve it. Our staff is made up of seasoned experts. Our technicians get the job done correctly the very first time they attempt it. They put their knowledge and expertise to work for the better experience of our clients. Whether you have a tiny issue or a major problem, our experts are always with you.
Regular HVAC Tune-Ups is the Need of the Hour
We understand the importance of your HVAC system. Like any other household appliances, they require regular cleaning and maintenance. Periodic maintenance increases the life of these devices, enhances their performance, and reduces the likelihood of equipment failure.
A low-efficiency HVAC system works harder to fulfill your home's heating and cooling needs. When a system is overloaded, it might get stressed and develop issues. An unresolved problem might turn into a significant problem in the worst-case situation, and your HVAC system might fail.
If you ever fall in need of efficient HVAC services in Sonoma County, feel free to reach out to us at 707-452-3374. We provide all HVAC-related services including boiler repair, leak detection, HVAC installation, and more in Sonoma County.
View More Client Kudos Here!
Click here to write up a review on Yelp, Facebook, or Google.
Helping You Save
Take Advantage of Our Specials