Aeroseal Duct Sealing in Santa Rosa
Serving Marin & Sonoma Counties
Leaky air ducts can make you uncomfortable at home and cost you a lot in raised heating costs? Many homeowners don't realize just how much heated or cooled air they are losing out of their air ducts at any given time. At John Owens Services, Inc, we can help stop this drain on your finances by treating your ducts with Aeroseal in Santa Rosa, or anywhere in Marin & Sonoma Counties.
What is Duct Leakage?
Most duct systems are not airtight. Over time, holes and cracks add to places where the air can escape from this system. This releases your hot or cold air in places where you can't use it. It results in uneven temperatures throughout your home, as well as higher energy costs because you have to run your heater and air conditioner more to pump hot or cold air into your home. Duct sealing in Santa Rosa can attack this problem head-on.
What is Aeroseal?
Aeroseal is a simple and effective method for sealing your ducts. We can get in, do your Aeroseal and get out quickly. The process includes:
We will come in and pressurize your system. This includes sealing off your vents and registers.

We'll test your system to find out how much air you're losing to duct leakage.

We'll pump our patented technology into your system. Aeroseal is a sticky polymer. It binds first to the edges of the holes in your ducts. Then it binds to itself until it seals the gap completely. There's no extra sealant, either. Our duct sealing  is so precise that we only use as much as we need to solve your leakage issues. 

Let your sealant dry. It usually takes Aeroseal about 2 hours to dry. During this time, we ask that you don't use your heating or cooling systems. 

We will test your home again. This should show that your duct leakage has gone down drastically.

You save on energy costs and stay more comfortable at home. Most of the time, people save at least 20% on their costs, though some save as much as 40%. 
Benefits of Aeroseal Duct Sealing
Save Energy
When your ducts aren't leaking hot and cold air, it won't take as much energy to heat your home. When all of that heated or cooled air makes its way into your house, you'll reach your desired temperatures faster. Then your systems can turn off and stop using so much energy. Duct sealing can save you up to 20% of your yearly energy usage. 
Save Money
When you aren't using as much energy, you won't spend as much on energy costs. In addition, when your heater and A/C aren't working as long or as hard to keep you comfortable, you may not have to replace them as often.
Improve Your Comfort
If you have certain rooms that are always too hot in the summer and too cold in the winter, even when the rest of the house is comfortable, duct sealing can increase your comfort by allowing more air to get to these areas! 
Raise Your Air Quality
Holes and cracks in your ducts can allow allergens and other particles to enter your heating and A/C systems. These then get blown all around your home whenever the systems are on. Duct sealing keeps these particulates out so the air you breathe will be cleaner than ever. 
Stay Safe at Home
Gas appliances, like a water heater or a furnace, leak carbon monoxide and other airborne chemicals as part of their regular functioning. If you have holes in your ducts, this can get into them and get blown into all the rooms in your house. Sealing your ducts keeps these potentially harmful chemicals out of your living spaces.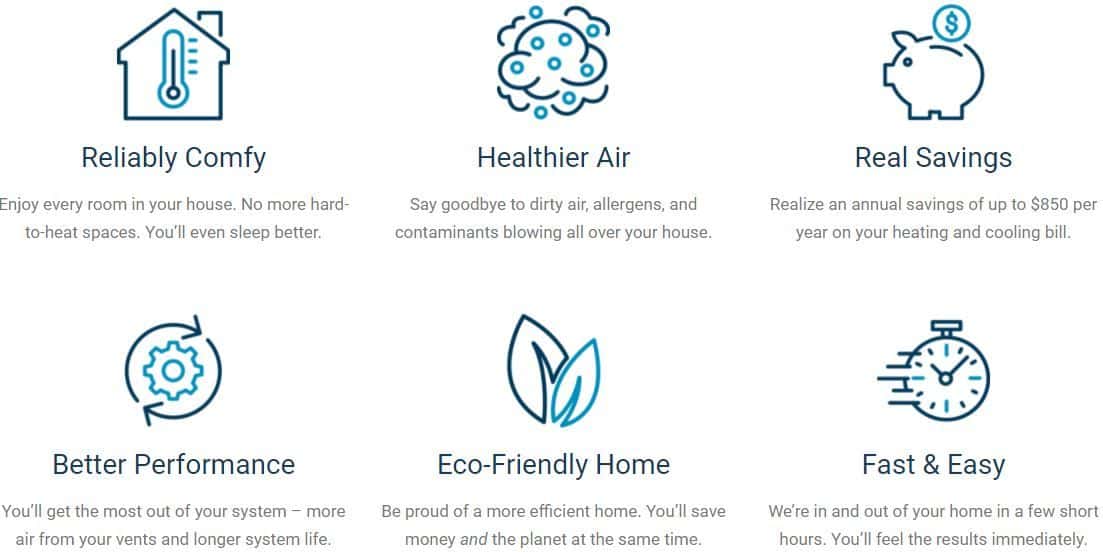 Need More Information?
Most people find that Aeroseal lasts for at least 10 years. In fact, it's guaranteed that long. However, we have pressure tested it for up to 40 years and have found that it's still going strong. Your duct sealing should last for as long as you own your home. 
In addition to lowering your bills, duct sealing can help give you cleaner air at home. If you struggle with allergies or asthma, this process may help you breathe better, too. 
If you have any questions about Aeroseal in Santa Rosa, call us at John Owens Services, Inc. We'd love to talk to you about how the process might be able to help you save money and live better.
Make your appointment today!