Air Duct Cleaning in Santa Rosa
And Across Marin and Sonoma Counties!
If your ducts are dusty or contain a lot of moisture, there's a good chance that you have allergens in there somewhere. These can get sucked in by your HVAC system and then get stuck in the dust. Moist corners provide places where mold and mildew spores can grow, too.  Our HVAC professionals are certified by the National Air Duct Cleaning Association (NADCA) to ensure that we provide you with the highest quality duct cleaning services. Read on to learn about the benefits of duct cleaning in Santa Rosa!
The Benefits of Duct Cleaning
Duct cleaning has several benefits that you may want to reap at your home. If these appeal to you, call us and get on our schedule for duct cleaning in Santa Rosa today!
Improved Health
If you have asthma or allergies in your home, contact your doctor to find out if duct cleaning might help you feel better. We can remove dust and other common allergens that like to collect in your ducts. This stops them from getting blown around your entire home every time you use your comfort systems. 
If duct cleaning isn't enough or your condition is severe, ask us about our duct sealing services, too. This process will do even more to protect the air you breathe every day!
Reduced Mold and Mildew Growth
Mold and mildew are annoying and unsightly, but they can also cause major health problems. If you aren't feeling well or someone in your family keeps getting sick and you're not sure why, our duct cleaning services may be able to get rid of the problem. 
If you have persistent mold or mildew in your house and there's no other explanation for it or you can see mold or mildew growing in your vents, call about air duct cleaning today!
Fewer Pests
Pests in your ducts can cause all sorts of problems. After all, who wants to breathe in mouse poop with every breath? If you've had pest problems at home, call to get your ducts cleaned soon. We'll get rid of the nastiness and make sure the pests stay out, too!
Less Air Contamination
Overall, duct cleaning is one way to clean the air that you breathe every day. When used with other solutions, like UV lights or special air filters, air duct cleaning helps make sure you're breathing clean air no matter what.
Call us today and we'll have your ducts cleaned ASAP. If we find any other problems during your ventilation cleaning, we'll let you know and help you get the problem fixed fast. 
Do I Need My Ducts Cleaned?
Duct cleaning is generally done on an "as needed" basis, though some customers prefer to have us come once or twice a year, just to be sure that everything is as clean as it can possibly be.
We recommend duct cleaning ASAP if: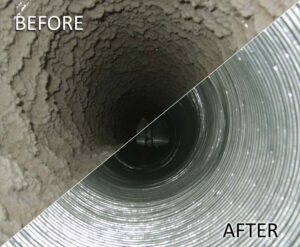 You see signs that there are vermin living in your ducts. This can include droppings, smelling an animal odor throughout your home, hearing them in your ducts, and more. Cleaning out the ducts can remove food sources for the vermin, which can make them leave. We also recommend finding the holes the vermin used to infiltrate your system and closing them.

You suffer from allergies, asthma, or unexplained respiratory illness and your doctor recommends it. In some cases, duct cleaning can help you and your family feel better at home.

You believe that mold and/or mildew thrive in your ducts. Duct cleaning can remove mold spores and help prevent future growth there. If a mold expert recommends cleaning your ducts, call us right away as some types of mold can cause serious illness.
Our Duct Cleaning Process
Get your duct cleaning started when you call John Owens Services, Inc today. We'll set you up with one of our NADCA certified duct cleaning technicians who will assess your home, then get those ducts cleaned for you fast. Our cleaning involves dusting off all of your registers and heat intakes, vacuuming dust out of the system, and treating for mold, mildew, bacteria, and more. 
Our aim is to make the air you breathe in your home as clean as it can possibly be. We can also talk to you about other air purification options, if duct cleaning alone doesn't satisfy your clean air needs. We'll help you raise your indoor air quality until it reaches your high standards. 
Call John Owens Services, Inc today for fast, friendly duct cleaning in Santa Rosa, and across Marin & Sonoma Counties!. We'll get to you fast and take care of your ducts so you can love living in your home again. Make your appointment today and find out just how easy duct cleaning can be!