There are several really good reasons why spring is the perfect time to schedule HVAC maintenance. All HVAC systems should be maintained at least once a year. This helps promote good air quality, helps your system run more efficiently and effectively, helps prevent breakdowns, and can extend the lifespan of your machine.
GET AHEAD OF THE CROWDS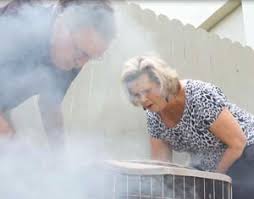 When it comes to HVAC maintenance there is no time like the present! Putting off HVAC maintenance could mean getting caught off guard with a broken machine when you need it the most! During peak operating times for both heaters and AC, HVAC specialists get really busy with service calls! This isn't to say that you won't get prompt service, but it could be delayed based on the levels of business. Get ahead of the crowds and schedule your maintenance ahead of time! This can help identify potential risks, and address those problems before they matriculate.
HVAC MAINTENANCE BEFORE HEAVY USAGE
Spring is the perfect time to have your HVAC maintenance performed because it is right after heavy winter usage, and right before heavy summer usage. The drastic change in temperature can sometimes lead to a condition called dirty sock syndrome, which is common during spring. During spring, when the days are warm, but the nights are still cold, some households find themselves running the AC during the day, and the heater at night. The fluctuations in temperature changes are the perfect breeding ground for bacteria and mold to collect on condensing coils, which can create an unpleasant smell, similar to that of dirty socks! If you notice a strange smell when the AC is engaged, contact a professional right away!
IMPROVED AIR QUALITY
During the spring when everything is in bloom, allergies are having a hayday! What can compound systems for allergy sufferers, is the dust, dirt, pet hair, mold, fungus, bacteria, and pollen that can collect in your ducts and filters! In fact, the air quality in your home could be worse than outside, especially if you haven't have your ducts cleaned or your filters changed. Spring maintenance for HVAC systems and ductwork for that matter is a good idea. Filters should be changed at least once a year, perhaps more depending on the area you live in and the level of usage.
To learn more about spring maintenance for HVAC systems contact John Owens today! With 20 years of experience in the business, he is the best in Marin County! Schedule your maintenance today!