Many people don't give much thought into how long their plumbing will last. In fact most people don't really think about their plumbing, that is until there is an issue. This can be dangerous, as not knowing the condition of your plumbing could put you at risk for a not so nice plumbing surprise. Regular drain cleaning and plumbing inspections are good to help identify potential threats before they cause a problem, and also allow you to prepare financially. Most of the core parts of your plumbing are designed to last for a really long time. Ever wonder how long will it last? Here is the lifespan of your plumbing.
WATER SUPPLY LINES
Water supply pipes are under constant pressure, which means that if they go, they have the potential to do the most damage. Fortunately, water supply pipes are made out of sturdy materials like brass, copper, and in older homes galvanized steel to withstand the constant pressure. Brass pipes will typically last 80-100 years, copper lasts 70-80 years, and galvanized steel lasts 80-100 years. When it comes to galvanized steel, it is important to keep in mind that they stopped using it in the 1960s, so if you live in an older home, be mindful of when your plumbing was installed.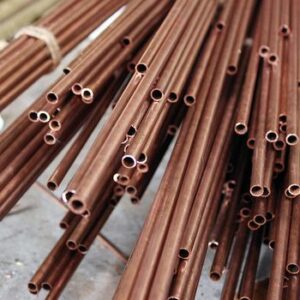 DRAIN LINES
Drain lines eventually need to be replaced because of wear and tear, however they are also susceptible to other breakdowns like tree roots, ground shifting, and sediment buildup. A leaky drain line can be a real messy problem, so being proactive with your drain cleaning and inspections can save a lot of stress and time. Drain lines typically use pvc pipe which lasts 25-40 years, or in older home cast iron which lasts 80-100 years. PVC overtook cast iron piping in the 1970's because it was easier to install, cheaper to produce, and less expensive.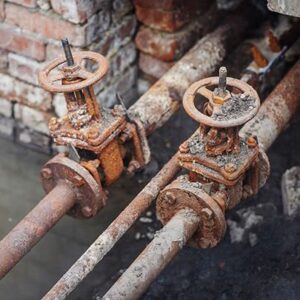 APPLIANCE SUPPLY LINES
Water supply lines to water using appliances like washing machines should be replaced every 3 years. Over time they can wear out, fray, and spring a leak. This can create quite a mess and lead to unnecessary repairs. Supply hoses are relatively inexpensive, easy to install, and can be picked up at any hardware or big box store.
PREVENT LEAKS
The best way to prevent leaks is to be proactive with your leak detection. Have a thorough plumbing inspection performed on a regular basis. Advances in technology like infrared cameras and ultrasonic leak detectors, allow plumbers to see where leaks are without having to tear open walls. In addition, video pipe inspection allows plumbers to see the condition of your drains and pipes. This allows for more accurate diagnosis of potential threats saving time, resources, and money. Some signs you may have a leak include: high water bill, unexplained puddles, water damage, the presence of mold and mildew, the sound of running or dripping water. Call your plumber to perform a thorough inspection to keep to the root of the problem before it's too late.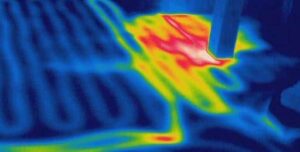 To learn more about the lifespan of your plumbing or to schedule a plumbing inspection contact John Owens today.