When temperatures soar, so does your electricity bill. Running your AC during peak temperatures comes with a hefty price tag. Fortunately, there are some things that you can do to help make your AC run more efficiently. You don't have to sacrifice comfort to save a little money. Here are some AC tips to help you get the most out of your AC this summer.
#1 Insulation
One of the biggest AC tips we can offer is to make sure your home is properly insulated. When a home isn't well sealed it is susceptible to air leaks. When cool air is escaping your AC has to work harder to maintain the temperature. There is also ample opportunity for warm air to penetrate as well, which also makes your AC work harder. To combat this, make sure your home is sealed. Check around doors, windows, and any openings around vents and pipes. You will also want to check attics and crawlspaces. A well-insulated home is a more efficient home. This will also help you in the wintertime when you are running your heater.
#2 Thermal Curtains
Another AC tip is to invest in some thermal curtains. Thermal curtains can help keep warm air from penetrating through your windows and heating up your home. Older homes with single pane windows are more susceptible to this. If replacing the windows in your home isn't within budget, consider investing in some thermal curtains to help keep your home cooler and more insulated.
#3 Ceiling Fans
Utilizing ceiling fans is a great AC tip that can help make your AC run more efficiently. When ceiling fans are in use they help circulate the air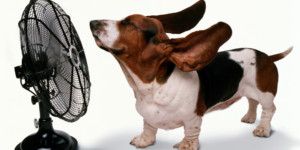 and keep the room 10 degrees cooler. This means your AC doesn't have to work so hard to maintain the temperature.
#4 Adjust the Thermostat
You can help your AC run more efficiently by adjusting the thermostat. During the summer, running your AC around 75-78 degrees can help keep your home comfortable and save you money. If you are also using thermal curtains, and ceiling fans, a higher setting on your thermostat will hardly be noticeable.
#5 AC Inspection
One of the biggest AC tips we can offer is to have your AC inspected once a year. A professional AC technician will inspect your AC and make sure that all of its mechanical parts are in good shape. Cleaning and replacing parts is part of keeping your AC running more efficiently. Just like with oil changes on your car, a well-oiled machine will last longer and run better.
Contact John Owens Services today to have your AC serviced today!