A home's plumbing system is an integral part of daily operations. You may not realize the importance of the functionality of your plumbing system until there is a mishap. Proper maintenance can help improve the function and longevity of your plumbing pipes. However, over the years even the most diligently maintained plumbing pipes will eventually succumb to normal wear and tear. So how do you know if it's time to repair or replace your plumbing pipes?
The Case for Repairs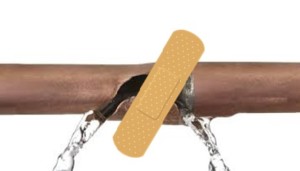 In many circumstances, plumbing pipes can be repaired. Repairing existing plumbing pipes is going to be a more affordable and less invasive route. In the world of plumbing repairs, technology has advanced a lot. Many pipes that previously would have been replaced, can be repaired using non-invasive techniques. Trenchless pipe and sewer repair work by layering an epoxy substance over existing pipes. This coats the inside of your pipes and seals any leaks or cracks. This method also employs the use of video pipe inspection to properly and more accurately diagnose the issue.
The Case for Replacement

While modern advances in plumbing technology have left many existing plumbing systems intact, sometimes plumbing pipes are beyond repair, and the best more effective method is a replacement. Some key signs that it is time to replace your plumbing pipes are:
Frequent plumbing issues
Rust colored water
Simple plumbing repairs lead to more extensive repairs
If you have your plumber on speed dial and every time you call your plumber to make a simple repair, you end up having to repair more than you bargained for, you may want to consider replacing your plumbing pipes.
Replacing your plumbing pipes can be an expensive and extensive procedure. You may want to consider replacing only exposed plumbing pipes to start. If you are remodeling, now is the perfect time to upgrade your plumbing pipes. In addition, if pipe replacement is the route you want to go, you should get some competitive quotes from repiping specialists.
The older the plumbing pipes will the more likely they will need to be replaced in the near future. Building materials have varied over the years from iron, galvanized steel, and plastic. Some old plumbing pipes might also contain harmful substances like lead and asbestos. Always contact a professional to inspect your older plumbing to stay on the safe side. Not sure if it is time to repair or replace your plumbing pipes? Give us a call!