A plumbing emergency can often catch us off guard. This is why it's a good idea to always be prepared for a plumbing emergency with the right tools. While of course we always want you to call a professional plumber in the event of an emergency, having the right tools can help alleviate some of the damage before your plumber arrives. Here are 3 of the most important plumbing tools that everybody should have.
PLIERS
Pliers are one of the most important plumbing tools to have because they help you grab, pull, tighten, or loosen things. A pair of pliers can come in handy if you need to turn off the water supply to
your sink or toilet for example. Tongue and grove pliers are designed to grab onto things that would be difficult to grab with your hands, like water supply lines, or things that are out of reach. Needle nose pliers are also good to have on hand if you need to grab onto something that is small or difficult to reach. Needle nose pliers can also bend and cut.
AUGER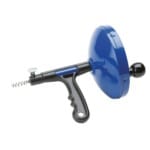 A plumbing auger is good to have on hand if you ever have a clogged drain. An auger is also sometimes referred to as a plumbing snake and can be effective at clearing clogs in toilets or drains. Augers are designed to crank down the drain and either break apart the obstruction or grab onto it and pull it out. There are several different kinds of augers:
Cable or Drain Augers – These use a flexible cable with a corkscrew at the end and are manually turned.
Flat Tape Augers – These are similar to cable augers, except they use a flat cable instead of a flexible cable. These are designed to work in pipes that are 2 inches or less in diameter and used to push through larger obstructions.
Power Augers – These have their own built-in motor or are attached to a power drill. These are much easier to use than their manual counterparts, and because they can spin faster they are also more efficient at removing tough clogs.
Toilet Closet Augers – These are designed to specifically navigate the plumbing of a toilet. They can be manual or power augers. These augers have the most flexible hose.
Rocket Nozzle Augers – These are used by professionals and use highly pressurized water to remove the blockage.
PLUNGER
A plunger is another important plumbing tool to have on hand. There are several different types of plungers the 2 most common are the cup plungers used for sinks and shower drains, and the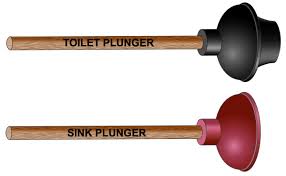 flange plunger used for the toilet. When selecting the right plunger to use for the job, make sure that the end of the plunger us flush with the drain. This allows for the best suction and therefore more efficiency. We suggest having one designated cup plunger for sinks and one designated flange plunger for toilets, not only for the more effective plunger but also for sanitary purposes. A couple of other tips for successful plunging include running the plunger under hot water to make the plunger more pliable. This ensures better suction. Also, make sure your plunger is fully submerged for the best suction. The better the suction the better the plunge.
Other plumbing tools that are good to have on hand include plastic warp in case of a flood, and plumbers' tape, which can be used to make sure plumbing fixtures get a better grip on threaded pipes. This helps prevent leaks. For more plumbing tips check out our other articles.