Fully Licensed & Trained Technicians Available for Same-Day Service
John Owens Services, Inc. is proud to serve the residents of beautiful Petaluma California! Whether you live in an older residential property or a more modern house, you can always rely on us for high-quality comfort solutions. From small repairs to complete system upgrades, we can handle them all. The John Owens Services, Inc. team has all the required licenses no matter if you need HVAC, electrical, boiler, or plumbing services in Petaluma
Plumbing Services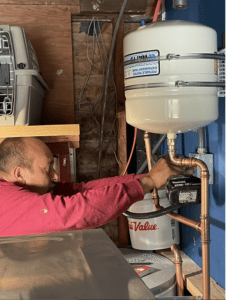 When you need reliable Petaluma plumbers who will get your home fixed fast, contact us at John Owens Services. We'll get to you fast and implement the solutions you need ASAP. That way, you can stop googling "plumber near me" and enjoy living in your home again soon. 
Plumbing Repair
We'll perform any plumbing repair that you need to have done in your home. Our team will fix everything from your sewer line to your leaky faucet so you never have to worry about your plumbing again. 
Call us today for fast, friendly service that starts with a consultation every time. We'll make sure we get you the best solution for your home. 
Water Heater Repair
If you need a water heater repair performed fast, call your plumber in Petaluma from John Owens Services today. We'll find out what is wrong with your water heater, then fix it fast so you can clean your home and shower again soon. 
Sump Pump Repair
Our Petaluma plumbers are sump pump repair specialists. They will find the source of your sump pump problems so you can get back on track fast. When you trust John Owens Services with your sump pump repair, you'll know that your home is safe from flooding no matter what happens.
Call John Owens Services For Expert Plumbing Services in Petaluma Today!
When you're tired of searching for a "plumber near me" but you're not sure who to turn to, call us at John Owens Services. We'll get to you fast, find the right solutions for all of your plumbing needs, and get everything working again soon. Contact one of our experienced plumbers in Petaluma today.
Call us today if you need any of the following services:
Toilet repair and replacement
Faucet, sink, and fixture installation
We also service all makes and models of water heaters including conventional tank, tankless, hybrid, and solar units.
Helping You Save
Take Advantage of Our Specials